PETER KJÆR-ANDERSEN
9th March 2016
The sky was overcast as is typical in Denmark during the earlier seasons the day we made our mid-morning arrival at the Andersen-Andersen studio. As we approached the showroom, however, there was a certain energy and warmth that emerged the moment we were greeted by the friendly shop dog, a border terrier and poodle mix, named Tudse. Regrettably, co-founder Cathrine Lundgren-Andersen had taken ill and could not be interviewed but her husband and co-founder, Peter Kjær-Andersen, was eager to share some insight into their lives, work, and pursuit of creating "the World's Best Sailor Sweater".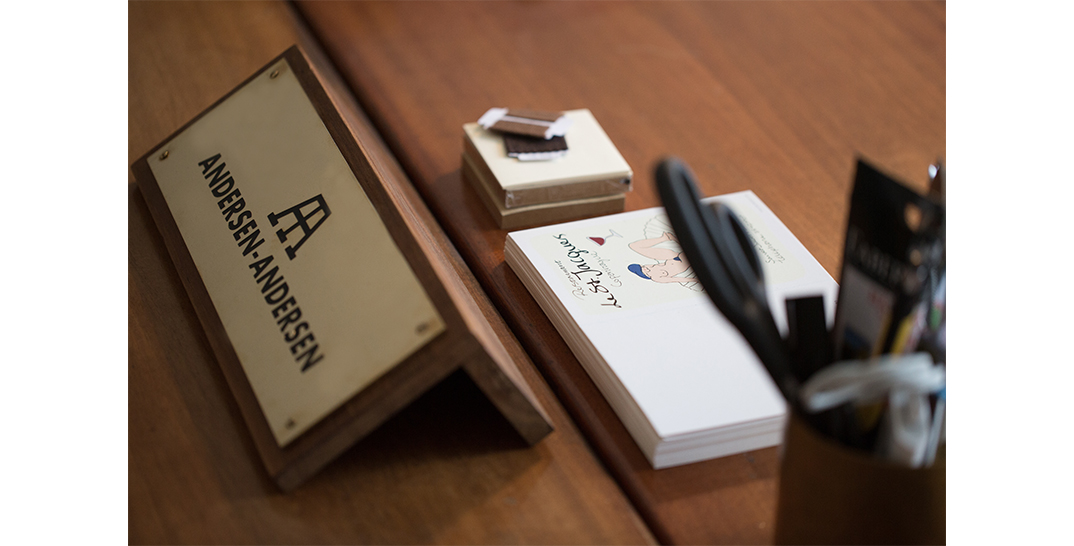 The maritime-influenced company dates back to 2009 when founders Cathrine and Peter Kjær-Andersen set out to create a garment that was equally timeless and resilient. Peter tells us that, while "the World's Best Sailor Sweater" is a ridiculous slogan to have, it is also the most honest one: "When we started, we decided that whatever we make, be it furniture, clothing, or whatever else, we want to make it the best we can".
---
"When we started, we decided that whatever we make, be it furniture, clothing, or whatever else, we want to make it the best we can."
---
Prior to starting Andersen-Andersen, Cathrine was building a career with a few larger fashion brands and Peter was involved in graphic design, primarily in poster making, which he still dabbles in to this day. Peter likens the process of designing a sailor sweater to that of designing a graphic work in its calculated approach. Most of the sweaters in the Andersen-Andersen collection are perfectly symmetrical, meaning they can be thrown on with no concern for the front or back. "We decided to make it as simple as possible, which is actually not simple at all because if you want to make something really good, the wool, the spinning of the wool, and the colouring of the wool must all be perfect." In that sense, constructing a sailor sweater provided a limitation that would force them to apply their creativity in a way not many had attempted previously.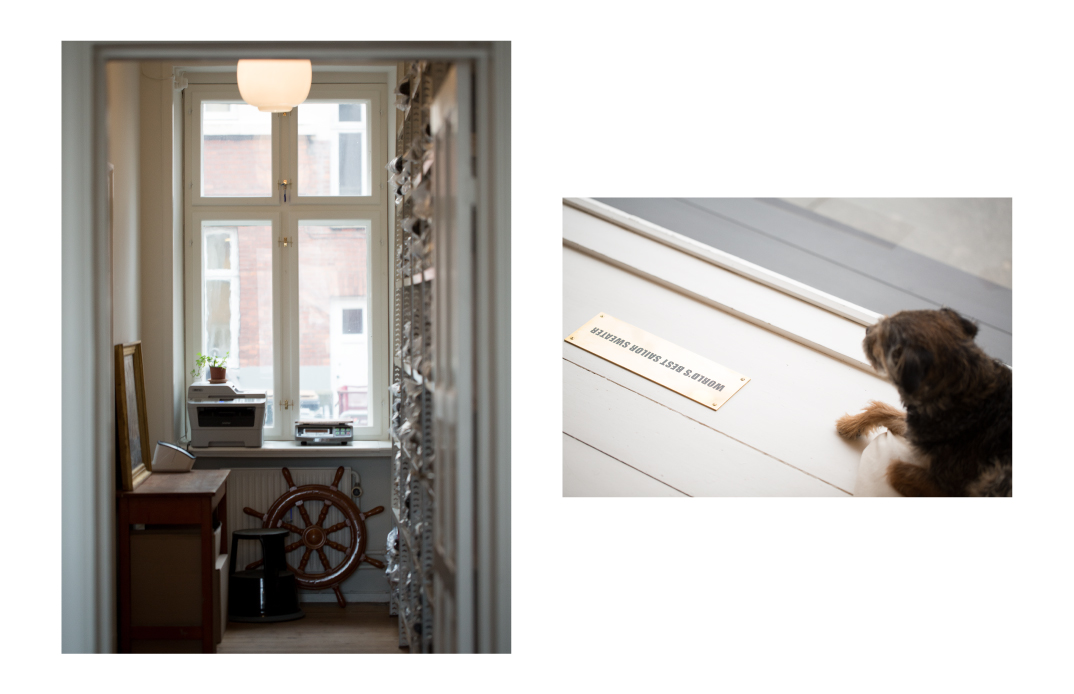 It became clear that this undertaking of creating sailor sweaters was more than just fulfilling consumers' need for quality knitwear; it was also a reflection of Denmark's inherited tradition of maritime knitting. Peter and Cathrine were both born wearing sailor sweaters, so to speak, raised by the sea which isn't uncommon in Denmark with its proximity to the Northern and Baltic seas and numerous offshore islands. "We looked at photos of sailors through history and knew there was something there". What makes the duo a perfect match is that Cathrine and Peter do everything together: "We make the design together, we discuss the yarn together, and we bore our children with it."
As we carry Andersen-Andersen in our women's store, we were curious as to how Peter envisions his sweaters worn by women. While it varies based on personality, nationality, and one year to the next, Peter has seen a trend of women wearing the sweaters oversized. We both agree that there is something romantic about an exaggerated sweater on a woman reminiscent of a beautiful lady in her husband's shirt, something both masculine and feminine all at once. He points out how sailor sweaters have a beautiful neckline that makes one think of Audrey Hepburn which is, of course, a reference to old-world Coco Chanel who became inspired by sailor's clothing and used it in her 1917 nautical line.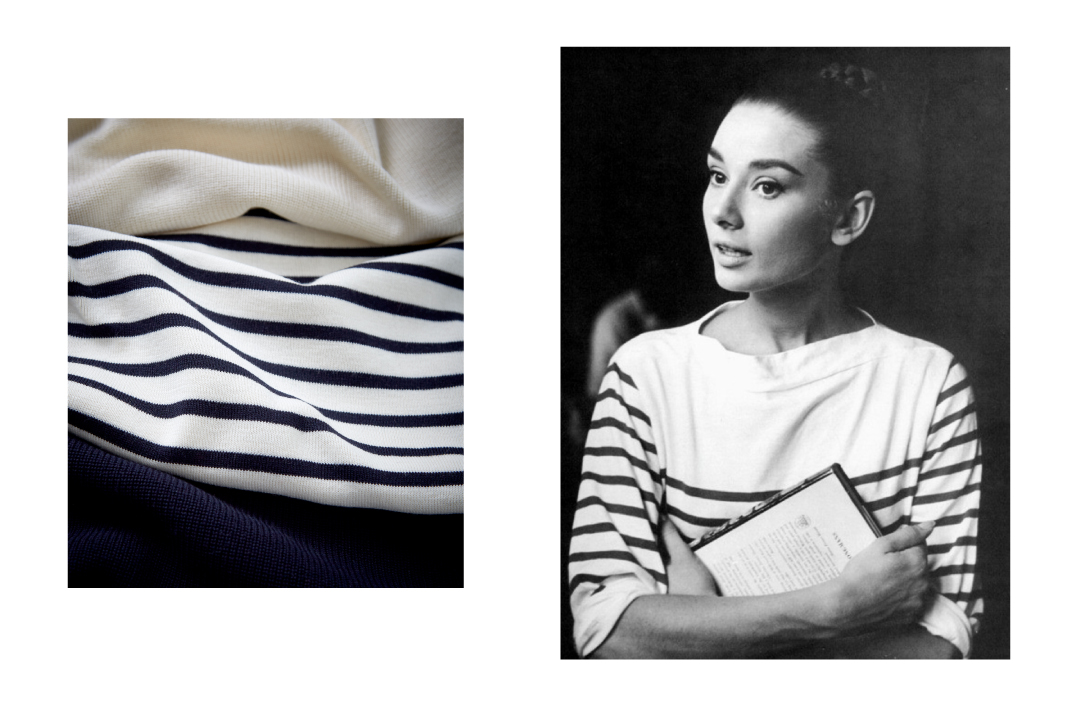 Cathrine and Peter had never intended to enter the fashion industry. Quite the contrary, it was the fashion industry that found them. It wasn't until last year that the the couple heard about Instagram at which point they already had thousands of hashtags concerning their brand. Although they have since ventured into social media territory, Peter tells us that the content they publish still holds the brand's personal DNA, which has remained intact since day one with little concern for the bottom line and more emphasis on having a sense of humour and not taking themselves too seriously. Integral to their brand is also inclusivity in that Andersen-Andersen sweaters are intended for everyone. They are not cheap in a conventional sense and are sold alongside premium brands in world-class boutiques, but the price is based on quality and unrelated to the brand name.
Despite most other companies expanding into new markets, Andersen-Andersen are invested in ceaselessly improving the small number of styles they already have. Creating a product that would remain the same year after year has a lot to do with the yarn, which Andersen-Andersen have resolved to make on their own. Andersen-Andersen yarn is a hard-spun, long fibered, merino wool. The result is a knit that remains soft and doesn't peel despite years of wear allowing them to be passed down from one generation onwards and the Andersen-Andersen yarn finally materialized after many visits to knitting labs and countless technique and textile variations. "If other companies were to go to a mill to recreate it, they would never get it. The quality is not the same. We survive on the quality because it is hard to achieve and impossible to recreate," says Peter Kjær-Andersen.
---
"We survive on the quality because it is hard to achieve and impossible to recreate"
---
We've reached an era where fashion brands are faced with unprecedented pressure to impress audiences and meet trends for financial gain or attention, but that type of momentum didn't seem to be present in the Andersen-Andersen offices. Cathrine Lundgren-Andersen and Peter Kjær-Andersen have managed to forge an alcove for authentic sailor sweaters with quality as their guide. "Whatever you do, do it right. Take the time. Make a difference because there is a market for it", Peter Kjær-Andersen explains. With their uncompromising dedication to the craft and integrity to maritime knitting heritage, it would seem that creating "the World's Best Sailor Sweater" may very well be a ridiculous slogan, but it is perfectly accurate.